Criminal Risks Prevention
Given the current law on criminal responsibility of legal persons, we provide our corporate clients (companies and institutions) quality advice and added value for the implementation of effective control and criminal risk prevention systems.
We perform due diligence in order to diagnose and evaluate the main criminal risks of the entities. We implement control and risk management programs and we also provide the appropriate training and develop systems of supervision and monitoring.
Advice to companies and institutions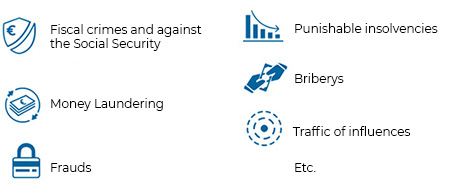 The law establishes criminal liability for legal persons (either companies or other institutions), when they commit certain offenses punishable by law.
Examples of these offenses are:
In this sense, our firm offers advice on criminal risk prevention systems, in order to mitigate contingencies arising from the imputation of criminal offenses and consequent criminal responsibility, and limit the reputational risk that could bring any inadvertent involvement in any of these assumptions.
Preparation of manuals and corporate governance protocols
We offer our collaboration and support for the preparation of everything necessary for compliance with regulatory requirements, such as procedure manuals or corporate protocols.
Definition of policies, standards and procedures
Once we do a thorough assessment of the risks, taking into account the developed activity, we offer our cooperation in defining policies and standards. We specify the procedures and processes that will help us mitigate the risks and implement the most appropriate control measures.
Effective internal control systems
We bring our extensive experience and knowledge to provide the company or institution with an environment of optimal control, in order to be able to deploy all necessary internal control systems effectively and efficiently.
In this sense, we advise on the implementation of reporting channels (or whistle-blowing) to disclose improper conduct in business.
Algorithmic models of criminal risk prevention
We are specialized in the development and implementation of advanced tools for behaviour inference and probability assessment of corporate risk to help in decision-making and improve the internal control environment.
Our Crime Prevention Model (CPM) includes the following phases:
The criminal risk prevention system and corresponding internal control require follow-up plans for its completion, to communicate relevant information promptly to the board of directors.
In this sense, in order to keep the assessment of risks and the establishment of controls fully updated, it is absolutely necessary to have and implement monitoring and reporting systems, to provide adequate feedback on the situation and the evolution of measures taken to achieve improvement goals.
Consequently, we define the most suitable reporting system to ensure a flow of information, both upstream and downstream (within the organization) and external (for regulators, supervisors or other organisms).
Training in criminal risk prevention
To ensure the smooth functioning of the criminal risk prevention system, it is essential to have good planning plan specific training on this subject for managers/directors and key employees of the company.
To this end, we offer information and training programs in both seminar and e-learning formats, so that the entire organization is aligned to the right direction.
Self-assessment model of the prevention system
In accordance with international trends in the control of global risks, we must emphasize the Self-Assessment Models (of risks and controls) aimed at improving processes, mitigating risks inherent in the business.
In this sense, our firm cooperates and supports the realization and implementation of the self-assessment model of the corporate risk prevention system, most appropriate to each industry or sector.
Once the targets of the organization are fixed and the criminal risks evaluated, we carry on defining action plans, which will be implemented according to the priorities established.
The implementation of the action plans will involve achieving an adequate control environment. Since its establishment will be necessary to monitor through of the Compliance scorecard.
Obviously, in order to ensure maximum visibility of the scorecard, this should be periodically reported to the company's board, to facilitate permeability across the whole organization.
Criminal risk due diligence
The current Criminal Law states that criminal liability of a company is not extinguished by its disappearance or transformation, so that in corporate mergers or acquisition, criminal responsibility will be transmitted to the resulting entity.
Therefore, to deal with these contingencies, we offer comprehensive due diligence, in order to assess risks, identify possible criminal offenses and manage sources of criminal liability that may arise in the merger or acquisition process.
Assistance and dialogue with internal committees and external regulatory bodies
Our firm provides assistance and support to those corporations, companies and institutions that have implemented the figure of the internal oversight of the prevention model, which assesses the proper work of the whole preventive system.
Also we interact with regulators and supervisors defending our client's interests.
Legal representation in Courts
Our firm provides close support defending the interests of our customers in any lawsuit or legal claim.
Our lawyers are specialists in Economic Criminal Law, and they are fully qualified to deal with any offense attributed to legal persons.
Specifically, the main offenses relate to: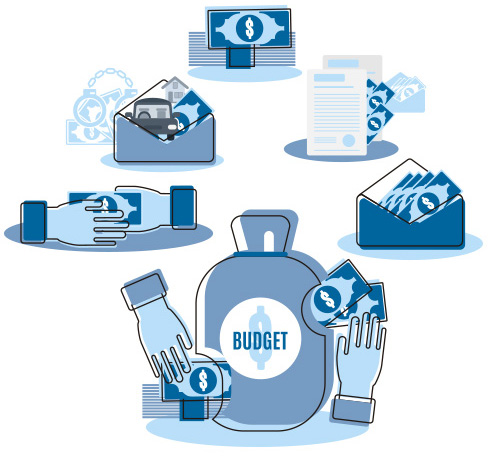 · Scams
· Tax crimes and Social Security infractions·
· Money laundering
· Punishable insolvencies
· Crimes related to the market and consumers
· Counterfeit credit cards and travellers checks
· Cybercrime
· Bribery
· Influence peddling
· Crimes against persons
· Environmental crime, public health and safety
· Urban and land planning crimes